Length - Volume - Color - Style
GreatLengths are the "Rolls Royce" of Hair Extensions..
The BEST, 100% human, virgin, hair is used. This hair has never been treated.. which maintains it's prestine integrity, look, and feel.
These extensions are completely customized for every person.. including the hair color, texture, density, and end result desired.
You will be thrilled & amazed at the results you can achieve from these extensions!

The GreatLengths brand speaks for itself..
It is the #1 hair extension company, that has & always will be the best, in the industry!
..No wonder everyone from celebrities to your friends have these extensions!
Almost every celebrity has extensions in on a daily basis.. Not only the long haired celebs, but the short haired ones too!
How do you think those hot 'bobs', that are in right now, maintain that perfect shape, color and density(especially in the front)?
Or the perfect blonde highlights.. that are thick and gorgeous(even though the person was just a brunette the day before).
GreatLengths delievers so many endless options!



GreatLengths promises to maintain their title & always be the best in the industry(on every level)!
The Great Lengths technique, quality of hair, & managability..
..are just some of the things that all other extension systems strive to 'mimic'.
Get the hair you have always wanted.. Be Envied!!
How Long Are You Going to Wait to Grow Your Hair?
Human hair grows approximately 1 cm per month on average.
This implies, tha if you want to have the long length you desire, you could end up waiting years!
..And even once this length is achieved, it is rarely the "gorgeous" hair you had imagained.
Your hair, naturally at this long length, often times can not cope with the strains it is exposed to during the time it needs to grow!
It falls flat.. looks thin.. has no body.. & is not easy to manage, let alone style!
With Great Lengths, your hair can be the length you desire..
..while still having the fullness/body you would expect it to have (& so much more!)
(Plus, the keratin-protein bond grows with your natural hair.. so you can still continue to grow it out(if desired))




You can have any color you want without compromising your own hair!
The stress free, always gorgeous, styling options of these hair extensions is absolutely Amazing!
(It truly allows for a 'wash & go' type-style, in most cases)
Maybe there is only a certain part of your hair, that you are unhappy with..
( like the front or sides.. -thin? fine? short, or disconnected from the rest of your hair?)
Use Great Lengths Hair Extensions for a certain 'trouble' area of your hair..
(fix a bad haircut, breakage/thinning from color, or any other reason you may have zonal problems)
Endless options are available and You can have the hair you want in a matter of hours...
Length - Volume - Color - Style



The Great Lengths method is unique: No other system treats your hair in such a gentle way!
Great Lengths has put an end to glues, bulky braids, knotting & welding, and/or clasps.
The application technique is a revolutionary system..
A long lasting, yet extremely gentle/completely safe, method..
allows keratin-protein bonds to seamlessly be attached to your natural hair!
(Keratin-Protein is what hair is made up of.. So the attatchment & wear of these extensions is completely safe for your natural hair!)


Wake up in the morning without the stress of unmanagable hair.
With GreatLengths, you can enjoy your new hair, without restriction!
There are no limits to organizing your leisure time or your lifestyle..
(swimming, dancing, excersize, & sports are no problem with these extensions)
Low-maintenance care.. is all that is needed to be done, to maintain your extensions!
(this mainly includes brushing, with a special bristled brush)
You may treat Great Lengths as if they were your own and style as you desire.
What is good for your natural hair is good for the extensions as well!
Unfortunately, not everyone has naturally thick hair.

Running your fingers through your hair, should allow you to feel the strength & body that you would like..
With these extensions you can obtain the volume, texture, body, & style you have been wanting for so long!
It is a process that includes placing the extensions, creatively/visually, where it is needed!
You will be amazed at the results.. A completely natural looking head of gorgeous hair..
..with the Volume! Body! Style! (&/or Color & Length) you have dreamned of!
This service is completely customized for each client..
The color is custom-blended, to match perfectly & the bonds are customized to be basically undetectable!

FREQUENTLY ASKED QUESTIONS:

Q.Do Great Lengths extensions damage your own hair?
A. The Great Lengths technologies ensure that there is no damage to your own hair. An at-home care sheet will be provided and gone over with you at your consultation. The main step in the at-home care is brushing, with a special brush. Naturally your hair sheds anywhere from 50-150 hairs a day.. the hair inside the bond will have no where to go, once shed. Brushing allows the naturally shed hair to lay down and not get inter-mixed with the rest of your hair. When the hair is cared for, as shown, long-lasting, healthy, gorgeous hair will be achieved and maintained.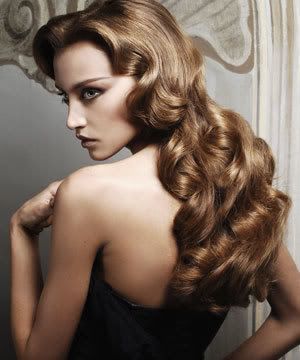 Q. Where does the hair come from?
A. All hair comes directly from India, exclusively for Great Lengths. Because of its same genetic origin, the basic structure of Indian hair is similar to that of our own. Indian women traditionally cut off their long hair either as a symbol of starting their new life, achieving special favor, or as offering thanks to a deity at a religious temple. This collection method allows numerous benefits and comes directly from the head of the individual to the main Great Lengths factory in Europe.


Q. What makes Great Lengths Hair "the best"?
A. The hair's cuticle layer is perfect, healthy, and intact.. since the only Indian hair used is that of exceptional quality. No middle men are used in the process of getting the hair from its source in India to Europe, where the hair is prepared. Many steps are taken to ensure the quality of the hair, etc. are to the Great Lengths standard of excellence. (Which Includes.. Brushing the hair with a special tool in a very specific way, which ensures that all of the hair is aligned in one direction.. also completely ridding the extensions of tangling.) The wide range of beautiful colors are achieved through a patented osmosis technology (the same process used to treat the finest cashmere). This allows the hair to be colored to the desired shade and tone, without the use of chemicals and without compromising the hair's integrity in any way. The hair is homogeneous in both color and thickness.. which delievers the best & most beuatiful there is to offer.



Q. How are the extensions put onto your own hair?
A. The attatchment process is very safe & is non-damaging to your natural hair. A patented, keratin-protein bond, that distinguishes GreatLengths from all other hair extension techniques, is softened with a unique tool & then formed around your natural hair. The protein bond replicates the molecular composition as that of human hair, which ensures that there is no damage done to the natural hair. Unlike other extension systems GreatLengths uses absolutely NO glues, waxes, braids, knotting, or welding processes.. which very often severly damage hair! You can also look forward to the benefit of having individual bonds, beacuse they fall (individually) just like your own hair would-This allows you the freedom of running your fingers through your hair, wearing many different styles, & treating it just like you would your own.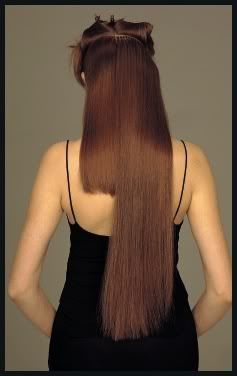 Q. How long will the Great Lengths extensions last in my hair?
A. These extensions last anywhere from 4 to 6 months. This all depends on your natural hair and what the extensions were put in for. A thicker head of hair is going to last much longer than that of fine hair, due to the size of bonds being used. Hair growth, natural shedding, color, density, and Care are all things that determine the longevity of your extensions. Home-care maintenance, if followed, ensures the that you will maintain the healthy, longest lasting extensions for your hair.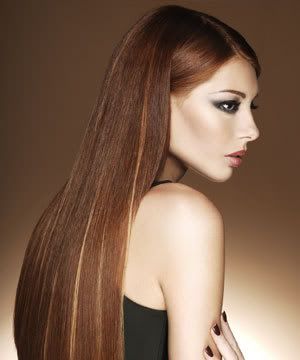 Q. If I am losing my hair.. Should I use Great Lengths hair extensions?
A. This would depend on the reason for the hair loss. Great Lengths is ideal for adding volume to naturally thinning hair. We do not recommend hair extensions for hair loss due to illness. You may need to wait a certain amount of time to get these extensions, until you are no longer losing hair-this could be due to pregnancy, medications, stress, etc. During the consultation, your hair will be analyzed and your concerns about hair loss will be discussed.

Q. Is the hair difficult to style or manage?
A. The hair has a beautiful soft waved texture, that is absolutely gorgeous. These extensions deliever the "wash and go" freedom while looking like you spent your time with it. The hair is VERY easily blown straight, with little effort at all and can be worn in any style you wish, while holding its shape(no more curls that fall flat!!) If you have very curly hair or very very straight hair.. the extensions may be customized by specifically ordering the texture of hair you need and incorporating it with the your color and desired end result. The hair is very easy to manage and is not at all high maintenance. The easy styling solutions with endless options and the gorgeous/natural appearance are both things that will make your life easier and give you that 'look good/feel good' feeling.


Q. Can I chemically treat my hair with Great Lengths?

A. Chemical services can be done.. But it is recomended that the chemical services be applied by a Great Lengths technician. These stylists are trained to use the correct products and procedures that will maintain the integrity of the 'protein bond', .while still giving you the amazing results you expect. You natural hair(hair around the bonds) can still be colored and treated for.. a Great Lengths technician knows exactly what to do when dealing with extensions, and if they are performing your chemical service, they will know what can and can't be done when working with these extensions


Q. Can I reuse the extensions?
A.GreatLengths hair is not reusable, due to the bond being broken down during the removal process.


Q. How do you take the Great Lengths extensions out?
A. A Great Lengths technician can easily remove the extensions by using a special removal solution and tool, which allows the bond to soften and slip out of the hair. The amount of time it takes to remove the extensions depends on how well you follow the home-care maintenance regime and if you brush your hair daily, as told. An hourly rate is charged for the removal of the extensions.


Q. How much will the extensions cost?
A. Each head of hair is different. The cost of Great Lengths depends firstly on why you are getting the service.. Length, Volume, Color, or Style. The cost also depends on your own color, texture, and density. An average lengthening service can cost about $1200-$1800. That is an average estimate and varies depending on all of the above factors. Thick hair may be much more in price and thinner hair may be less. Some volumizing, color, and style services, however, may be signifcantly less in price, and can start at $250- and go up..depending on what is needed to obtain the desired end result.
All GreatLengths extension services are customized specifically for each person. The hair's prep work, precise application, placement, customized cutting and blending, colors used, bond attatchment/size, and everything else in-between.. all play major roles in the outcome of your extensions. This is why choosing a certified, creative, and well-educated stylist along with the Great Lengths extensions(being the best of the best) is the only way to go..Trust the best!!


Q. I am interested in getting the Great Lengths extensions, What do i need to do now?
A. A consultation appointment must be made. This will allow further details to be discussed and any questions you may have to be answered. Your hair will be analyzed thoroughly, your color will be matched, and all of the other details needed will be gone over.. all this to give you the gorgeous Great Lengths hair you have dreamed of. The cost of this is $50- and will be deducted from the total price of your extension service, when you book at the end of your consultation. This is non-refundable.
Once your consultation is finished and you decide to get the service done a deposit must be given.. this is 50% of the total cost of the service. (cash or visa/mastercard can be used to hold your appointment.. if a check is what you would like to pay and hold your appointment with, a visa/mastercard must be used to back the check) -this deposit is non-refundable.
For Additional Information.. or to Make an Appointment with Megan:
Please call . 714 - 420 - 4947 .